A comfortable work space can help you feel your best. Give your sitting work area a makeover with this visual guide to office ergonomics
If you sit behind a desk for hours at a time, you don't have to be doomed to a career of neck pain, back pain, sore wrists and fingers! Proper office ergonomics – including correct chair height, adequate equipment spacing and good desk posture – can help you and your joints stay comfortable at work.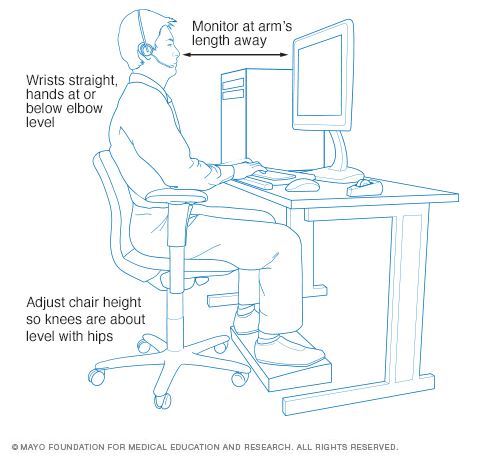 # 1 – Chair
Choose a chair that supports your spinal curves. Adjust the height of your chair so that your feet rest flat on the floor or on a footrest and your thighs are parallel to the floor. Adjust armrests so your arms gently rest on them with your shoulders relaxed.
# 2 – Key objects
Keep key objects — such as your telephone, stapler or printed materials — close to your body to minimize reaching. Stand up to reach anything that can't be comfortably reached while sitting.
# 3 – Keyboard and mouse
Place your mouse within easy reach and on the same surface as your keyboard. While typing or using your mouse, keep your wrists straight, your upper arms close to your body, and your hands at or slightly below the level of your elbows. If possible, adjust the sensitivity of the mouse so you can use a light touch to operate it.
#4 -Telephone
If you frequently talk on the phone while typing at the same time, it's a good idea to place your phone on speaker or use a headset rather than cradling the phone between your head and neck.
# 5 – Monitor
Place the monitor directly in front of you, about an arm's length away. The top of the screen should be at or slightly below eye level. The monitor should be directly behind your keyboard. If you wear bifocals, lower the monitor an additional 1 to 2 inches for more comfortable viewing. Place your monitor so that the brightest light source is to the side.
---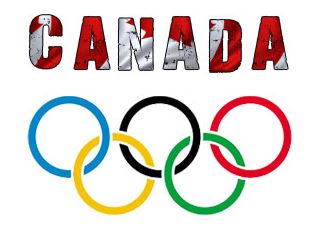 Go Canada Go!
The 2018 Winter Olympics were officially Canada's most successful Winter Games ever. With 11 Gold, 8 Silver and 10 Bronze medals, we couldn't be more proud of all the Canadian athletes that represented our country in PyeongChang this winter!
---
Meet Dylan Jones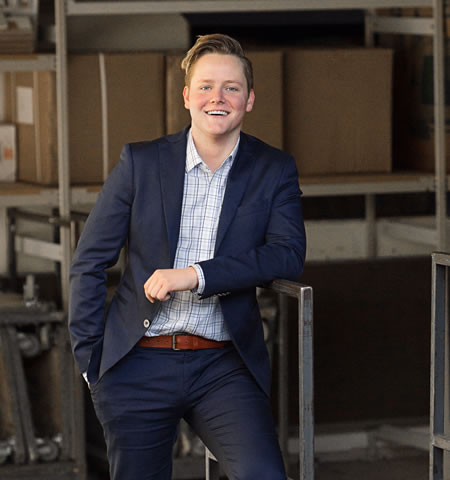 Dylan recently completed his Bachelor of Business Administration at TRU focusing on Finance and Marketing. After joining the DLO team in August of 2017, he was quickly recognized as a leader and now supports both Lane and Laurie in Business Development.
With a solid understanding of the expectations of DLO, and the ability to constantly think 10 steps ahead, Dylan has been a key player ensuring we get it right on every job he is engaged on. From initial client visit and proposal writing, to deficiency resolution. Dylan carries our clients seamlessly through their projects.